A Story of Love, Giraffes & Hotdogs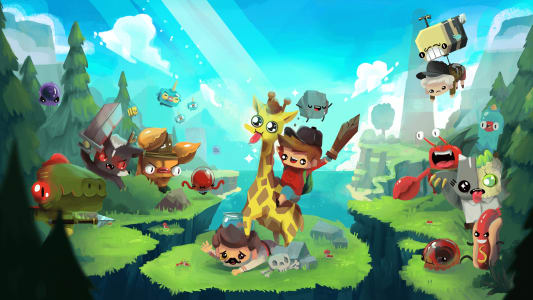 About
The Adventure Pals is an epic adventure platformer fueled by imagination, friendship, and the dark side of hot dogs. Your dad has been dadnapped and you, your pet rock, and a tongue-helicoptering giraffe must fight your way through levels filled with platforming, bizarre enemies, and big bosses to save the world!
Release Date
April 3rd, 2018
Publisher
Rating
ESRB 10+
Features
CO-OP GAMEPLAY
Every adventure is better with a buddy... play solo, or with your bestie!
BIG BOSSES
Challenge the biggest and baddest bosses, featuring a tree, breakfast, vegetables, and more!
BEST PALS!
Explore a magical world with your trusty pet rock and giraffe who fight alongside you.
About
Your Dad is being turned into a hotdog!
Who is Mr. B really, and why is he kidnapping old people to turn them into hotdogs? Only you can find out and stop his wicked plans, alongside your best buddies Sparkles and Mr. Rock.
Play with your best Pal!
Explore a vast and bizarre world, taking you throughout five unique and vibrant areas, each filled with a high demand for rubies, love, and beating the heck out of baddies.
Make new friends
The Adventure Pals is a mixture of lovingly handcrafted platformer levels, combat focused arenas, and RPG-like locations with kooky townsfolk who all have an interesting story to share.
Media
Awards
Blog